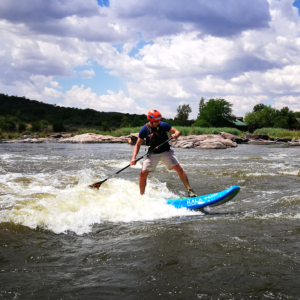 Stand-up paddle boarding (SUPing) is one of the new and fast-growing disciplines of paddling.
SUP boards can be inflatable or rigid and provide a platform on which the paddler stands and paddles with a single blade.
SUPs are designed for a range of uses, including whitewater, racing, yoga, touring, surfing, and generally building core strength and fitness.
If you are looking to diversify your whitewater skills on a Stand Up Paddle board, inquire about our training offerings.